The 'Best Of…' lists always rear their ugly heads at this time of year, many people loathe them, some people like them and others don't really care. Here at LoBandWidth we aren't going to pretend we're above all of the end of year list making - in fact, we're going to join in, because there's nothing we like more than trying to please people. Honest. It's also partly because I (Mel), had to do a top ten for Drunkenwerewolf, and it was a heartwrenching process cutting down this list to ten. So here we are, in a very vague order, my top 21 albums of the last year:
1) Johnny Foreigner - Vs Everything
Choosing number one for this list was a bit strange, because there isn't really a clear winner for me from this year. In the end I went for what I would consider the most 'deserving' album. Vs everything feels like the culmination of a hell of a lot of hard work and love, Johnny Foreigner are one of those bands who seem to enjoy making their music as much as we do listening to it and it gets away be
autifully with being really rather long. I can tell I'll be returning to and enjoying it for many
Standout track: 'New Street You Can Take It'
2) Copy Haho - Copy Haho
An album I've been waiting for since SWN Festival in 2009, this is a cohesive debut with pleasantly surprising lyrical depth and one of the best opening tracks I've heard in a long time. (Full review on Goldflakepaint.co.
uk)
Standout tracks: 'Factory Floor' and 'When It Gets Dark'
3) Slow Club - Paradise
Turning away from their slightly too sweet debut album, this is darker and more mature. With their gorgeous voices entwining over poignant and sassy lyrics, backed by a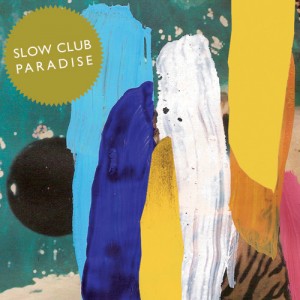 thumping drumbeat, it's an immediate, brilliant work. (Full review
Standout tracks: 'Where I'm Waking' and 'You, Earth Or Ash'.
4) Los Campesinos! - Hello Sadness
I gave this my first ever 10/10 (full review on Goldflakepaint.co.uk), and whilst I think that was perhaps a little generous, as it is by no means perfect, it's still a great listen and of the high standard we've all come to expect from LC!.
Standout tracks: 'Every Defeat A Divorce' and 'To Tundra'.
5) Danananaykroyd - There Is A Way
It was a sad year for fight-pop as Dananananaykroyd went on their final tour ever, leaving us all in a state of shock as
we realised there'd be no more from them. It's perhaps not as consistent as 'Hey Everyone' but at several points you'll find yourself wondering how exactly they manage to sound that happy, angry and addictive all in one go.
Standout track: 'Apostrophe'
6) Beyonce - 4
(standout track: ' I Was Here'.)
7) Aidan Moffat and Bill Wells - Everything's Getting Older
(
standout track:
'Let's Stop Here')
8) Summer Camp - Welcome To Condale
(
Standout track: 'Losing My Mind'
9) Zola Jesus - Conatus
(
standout track:
'Shivers')
10) Benjamin Shaw - There's Always Hope, There's Always Cabernet (standout track: 'HULK')
11) Destroyer - Kaputt
(s
tandout track: 'Poor In Love')
13) EMA - Past Life Martyred saints (standout track: 'Milkman')
14) We Were Promised Jetpacks - In The Pit Of The Stomach (standout track: 'Pear Tree')
15) Dear Reader - Idealistic Animals (standout track: 'Mole')
16) Katie Malco - Katie Malce and the Slow Parade (standout track: 'Sad Eyes')
17) Drake - Take Care
(standout tracks: 'Over My Dead Body' and 'Take Care')
18) The Beautiful South - Live At The BBC (it's actually physically impossible for me to choose a 'standout track'. Sorry)
19) Fight Like Apes - The Body Of Christ And The Legs Of Tina Turner
(standout track: 'Thank God You Weren't Thirsty (Lightbulb).
Read about why this one's on the list here)
20) Tellison - The Wages Of Fear (standout tracks: 'Get On', 'Freud Links the Teeth and the Heart' and 'My Wife's Grave Is In Paris'.)